Don't miss out. The BACK TO SCHOOL BACKPACK BONANZA will take place on Wednesday, August 11th from 4pm - 7pm. Transportation from the MCC High School Parking Lot will be available.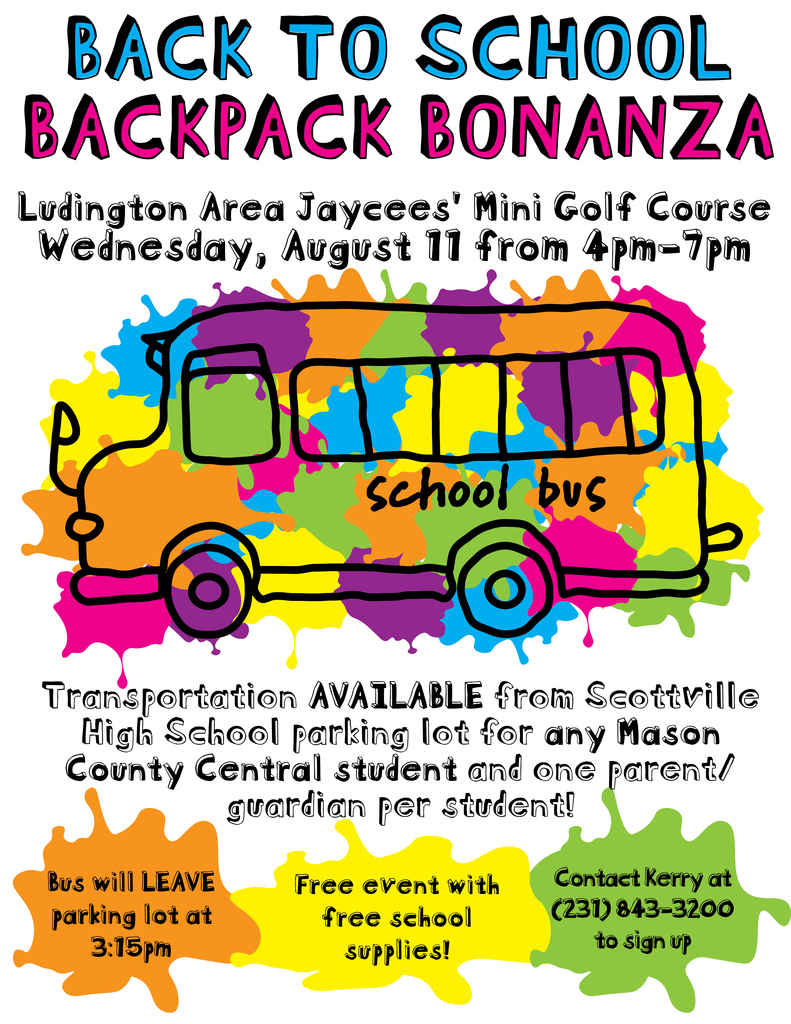 CALL NOW ENROLL FOR PRESCHOOL THIS FALL Victory Early Childhood Center One Stop & One Location For Busy Parents High Quality Programming Available GSRP – You could possibly attend for FREE with TRANSPORTATION Montessori – Tuition Based (3/4 Year Old Sections) Wrap Around Child Care Before / After School Call Ms. Angie @ 757-3713 ext. 131 to make an appointment FREE Books & School Supplies For Those Applying From Now Until The End of July!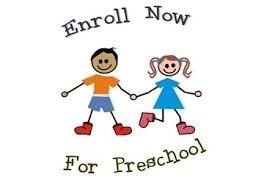 Join the MCC Educational Foundation for a day of paddling the Pere Marquette River. In-person Race Day: July 17, 2021 Virtual races: July 3 - July 16, 2021 This year we are offering in-person and virtual race options for 2 river races and 2 triathalons: • River race #1 will start in Custer and end at Riverside Park in Scottville. • River race #2 will start at Riverside Park and end in Ludington. • The Individual Triathalon • Team Triathalon Each triathalon will consist of a 12 mile bike race, 4 mile run, and paddle from the Custer boat launch to Riverside Park in Scottville. ● Visit
www.mccedfoundation.org
then click on Spartan River Races to find the registration link ● Or go to Spartan River Races Please contact Gary Andersen at
gandersen@mccedfoundation.org
or 231-690-0633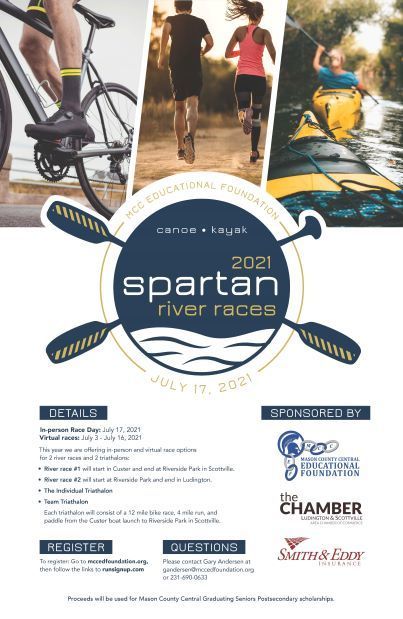 Community Forum #2 Zoom Link: Click on this Link and Join us Virtually June 29th at 6:00 p.m.
https://bit.ly/3iO12iE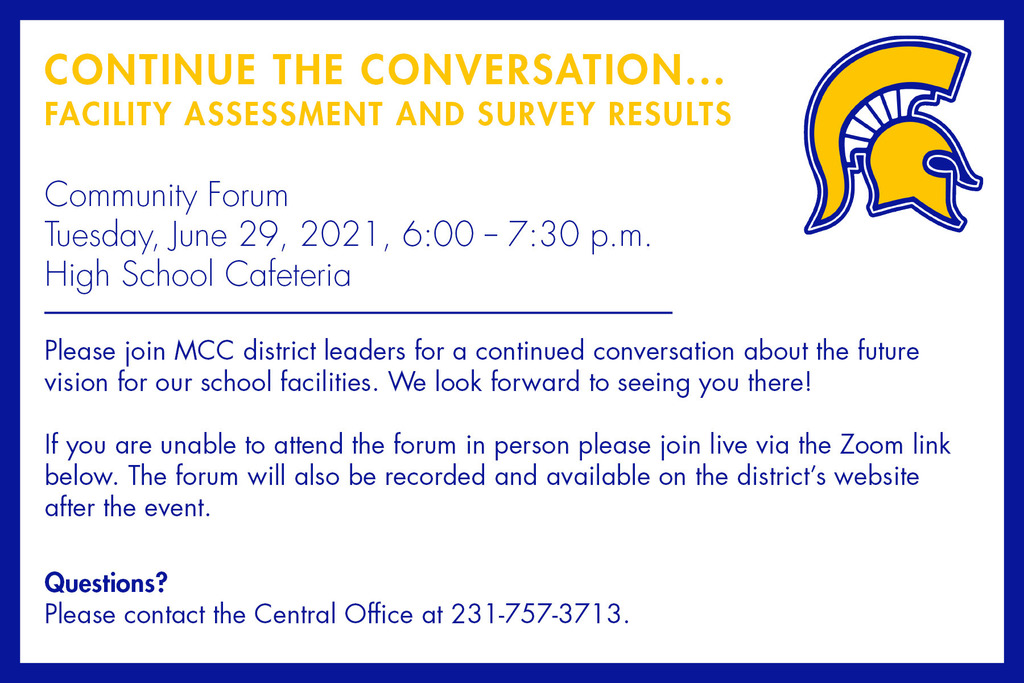 Just a reminder. The window for completing the MCC Facilities Visioning Survey closes at the end of the day this Friday. If you have not had a chance yet, please take 5-7 minutes and fill out the survey... right from your phone. Your ideas and opinions will help shape our direction forward! Click on the link below to take the survey:
https://bit.ly/3v6Zfrw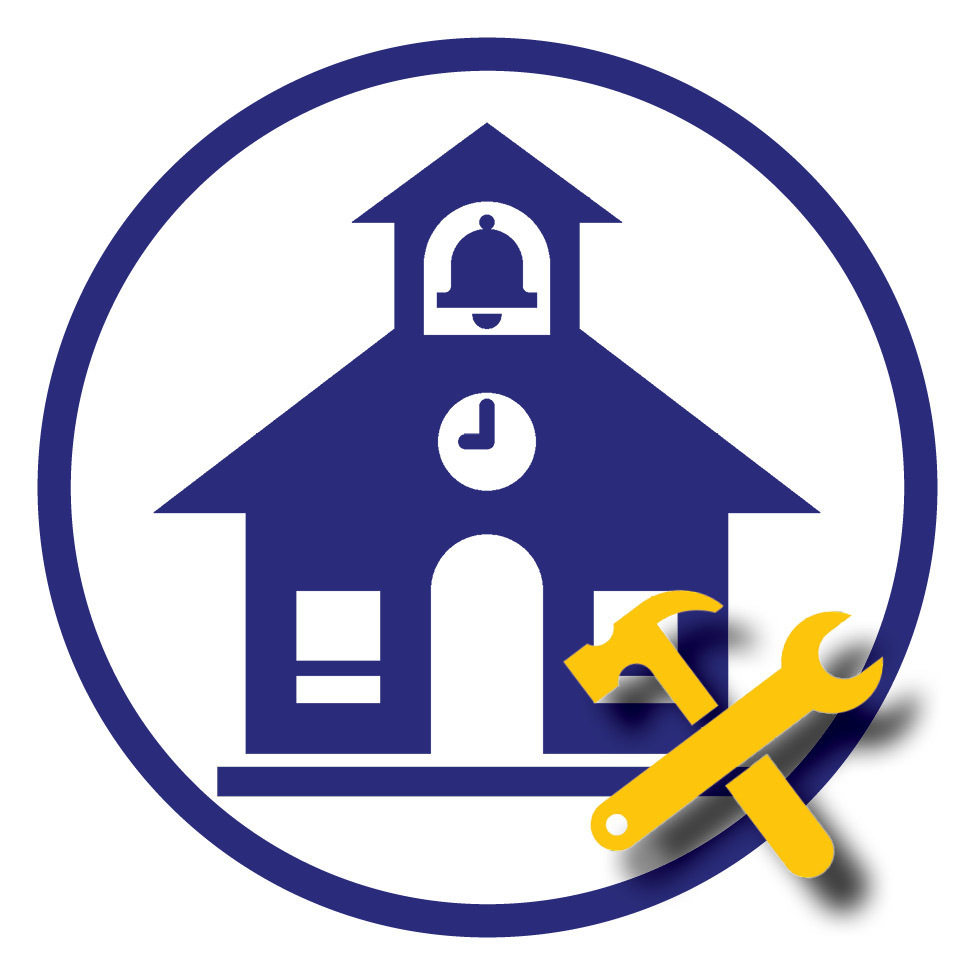 Spartan Families, Just a quick reminder that tomorrow, Friday June 11th will be our last day of school and it will only be a half day. Scottville Elementary will dismiss at 11:20. Thank you to all of our families for all of your flexibility and understanding this school year and the changes that were thrown our way. We couldn't have done it without you! We sincerely hope you have a wonderful summer!!

Good afternoon Scottville Elementary families, we will have a lost and found table out by the Main entrance the last day of school from 11:00 to 11:45. I am attaching a picture of what is on the table, if you recognize anything please stop by and grab it. If you are unable to stop please give us a call at 757-4701 and we can arrange pick up. If your child has medications that they take at school, please make arrangements to pick that up by Wednesday June 16th by 3pm. If they are not picked up by then, they will be disposed of.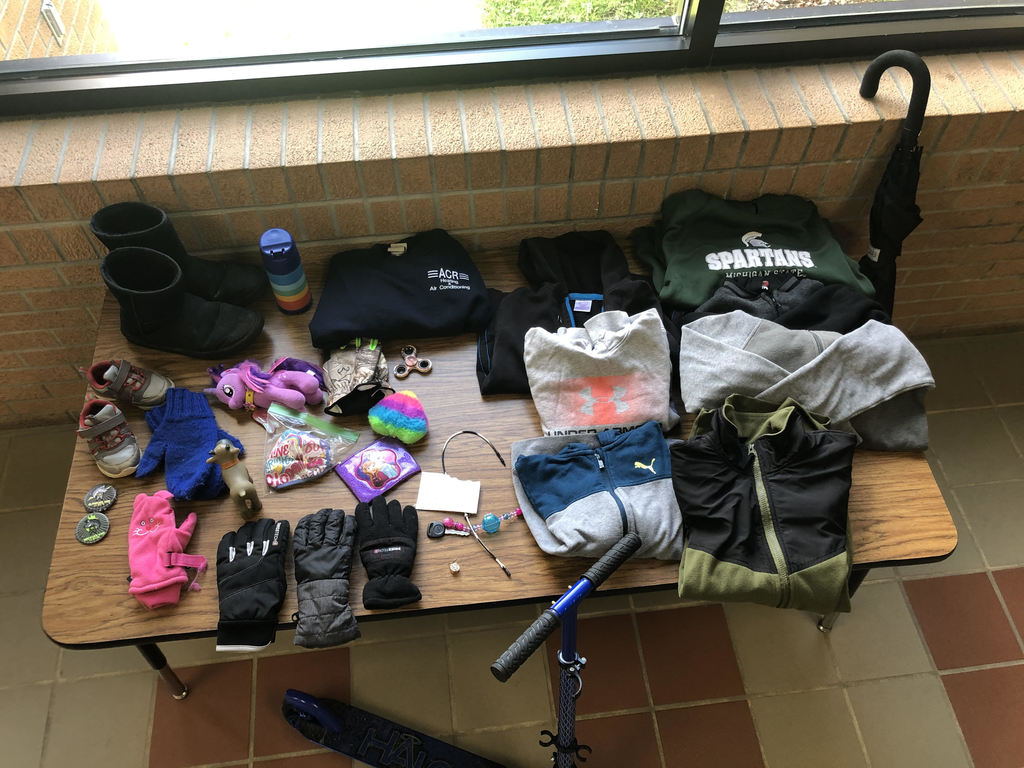 Free Summer Meals for Kids !! Let's Meet Up and Eat Up !!! Come and join the fun !!!!!! This is a non-income-based program, This summer, when school lets out, Mason County Central Food Service, through the Summer Food Service Program will offer free and nutritious meals to all children ages 18 years and younger. Please see the attached flyer for more information! Feel free to call Mary Ann Nielsen with any questions Mason County Central Food Service Director 231-757-5721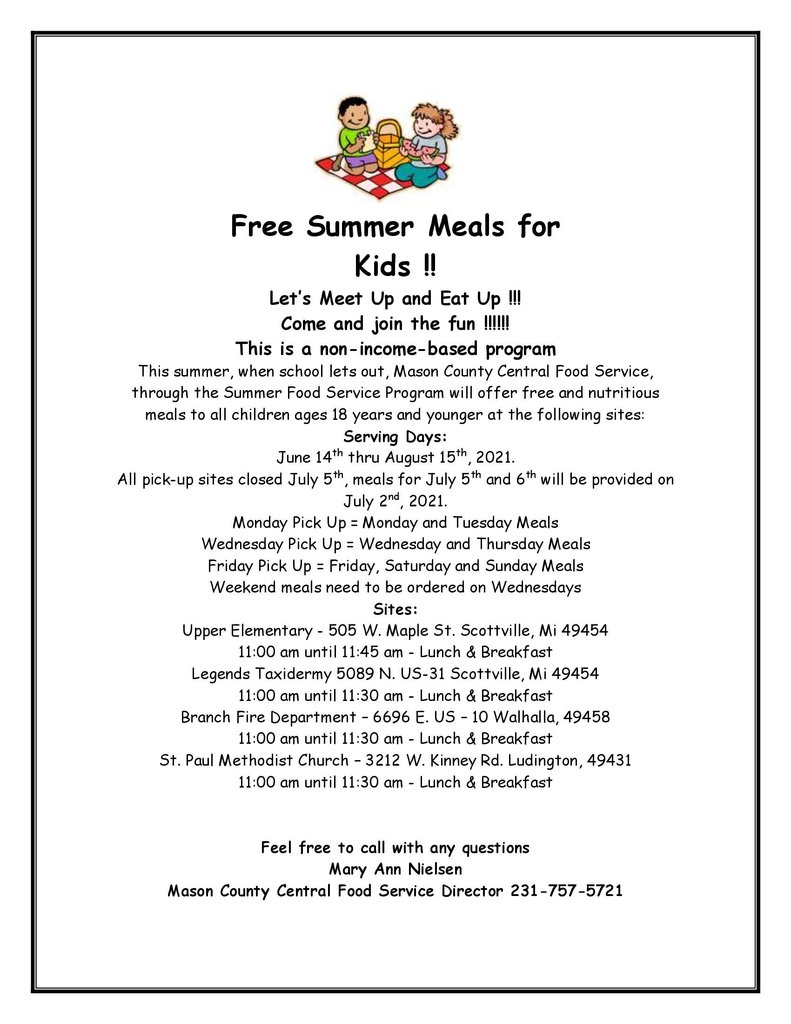 YOUR VOICE MATTERS! Community Forum Tuesday, June 8, 2021 6:00-7:30 pm High School Cafeteria Please join MCC district leaders for an informal discussion about our school facilities, with a focus on past, present and future visioning. We look forward to seeing you there! If you are unable to attend the forum in person please join via the Zoom link below. The forum will also be recorded and available on the district's website after the event.
https://zoom.us/j/96667395046
Questions? Please contact the Central Office at 231-757-3713.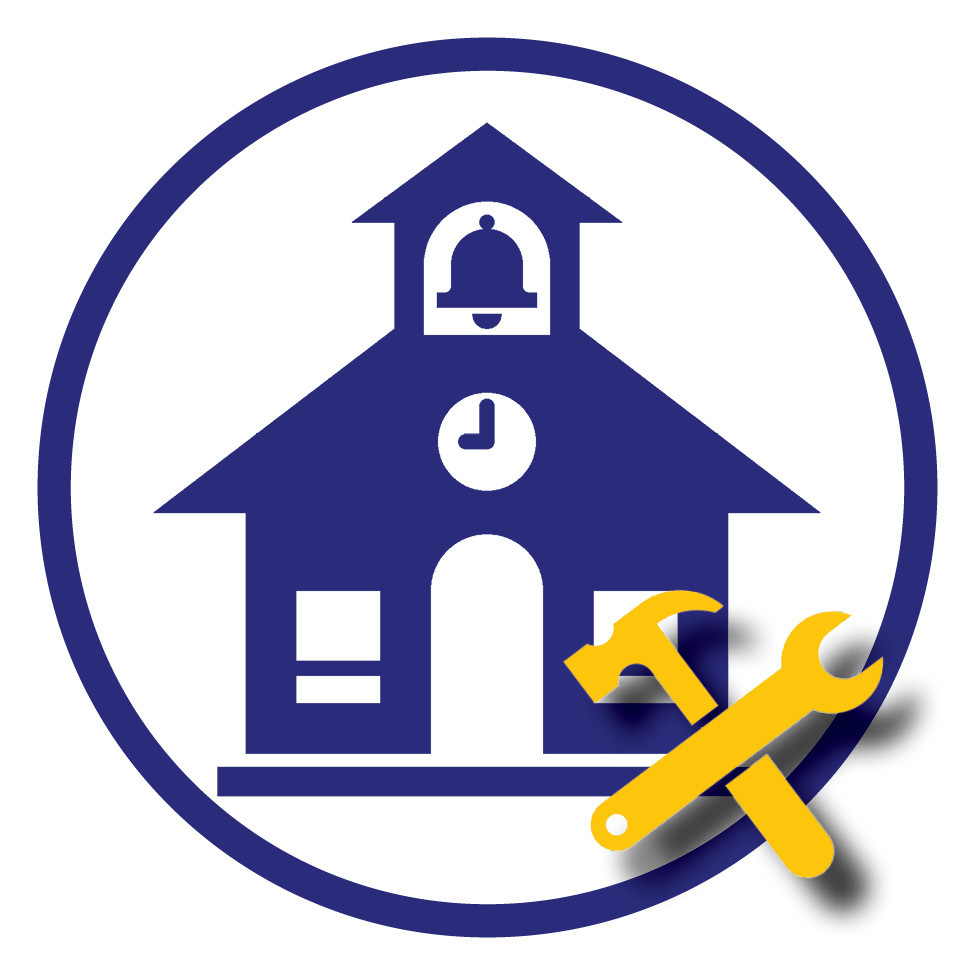 Head on over to the website to take a look at the students virtual art showcase by clicking the link below.
https://bit.ly/3c3ZwF4

Spartan Families, attached you will find some information on Scottville Pop Warner Youth Football. If you have a child who will be 8 years old on or before August 1st 2021 and is interested in playing football please take a look at the attached photos for registration details. For any questions regarding Scottville Pop Warner Youth Football please contact Ryan Graham using the contact information provided in the photos attached

Good Morning Scottville Elementary Families. Just a reminder that there will not be school tomorrow, Friday May 21 as our staff will be participating in a Professional Development day.

Dear MCC School Family, To eliminate any confusion regarding the CDC's recent masking guidelines for tomorrow, Monday, May 17th... Mason County Central Schools WILLREQUIRE all students, staff and visitors to continue to wear masks for the foreseeable future... likely for the remainder of this school year. Since Friday's announcement we have received further clarifying guidance for schools from the CDC, then MDHHS and now from District Health Department #10's Medical Director, Dr. Morse. All 3 of these entities clearly state that for all those able in schools to continue wearing masks through the remainder of the this school year. MCC has consistently followed the guidance of our healthcare experts from the beginning of this pandemic. The good news is the vaccines are working and have put us on a path back to normalcy. If this trend continues, it is very likely when we return to school in the fall, we will experience a more normal school environment. We are close to the finish line Spartans... Stay Vigilant... Stay Strong... and Stay Healthy!!!

COVID-19 Vaccine Clinic Spectrum Health Ludington Hospital Thursday, May 20, 2021 3p.m. to 8 p.m. No out of pocket cost. The state of Michigan has expanded eligibility to those 12+ Sign up for an appointment Registration is easy. 1. Call 833.755.0696 for scheduling those who are 12 to 17. Those over 17 can also go to
www.spectrumhealth.org/covid19/covid-19-vaccine
and click on the green "Schedule your vaccination" button. 2. Answer the questions. 3. Select Ludington Hospital location. The clinic will be held in Classroom A&B on the lower level off the North Entrance. Please park in the lot off Lawndale Avenue, at the back of the hospital and enter through the North entrance. Vaccinations help protect you and your loved ones from COVID-19 and allow you to gather and work more safely.

Yesterday we participated in ACES Day here Scottville Elementary. ACES Day stands for All Children Exercising Simultaneously!! Her are a few snapshots of the kids getting their exercise on through dancing!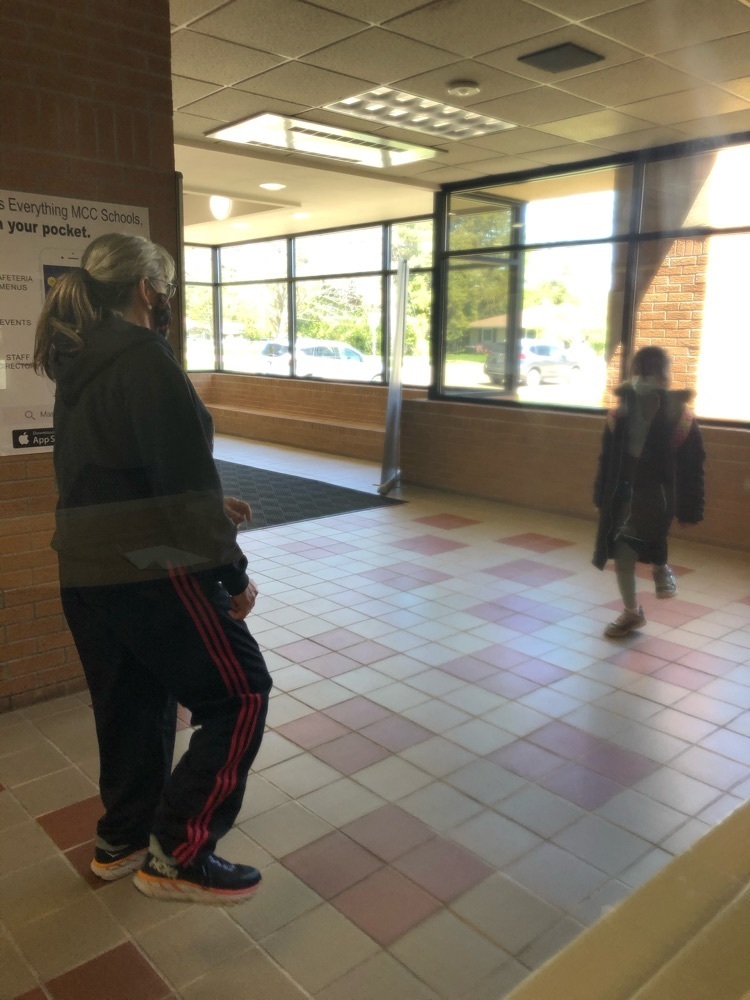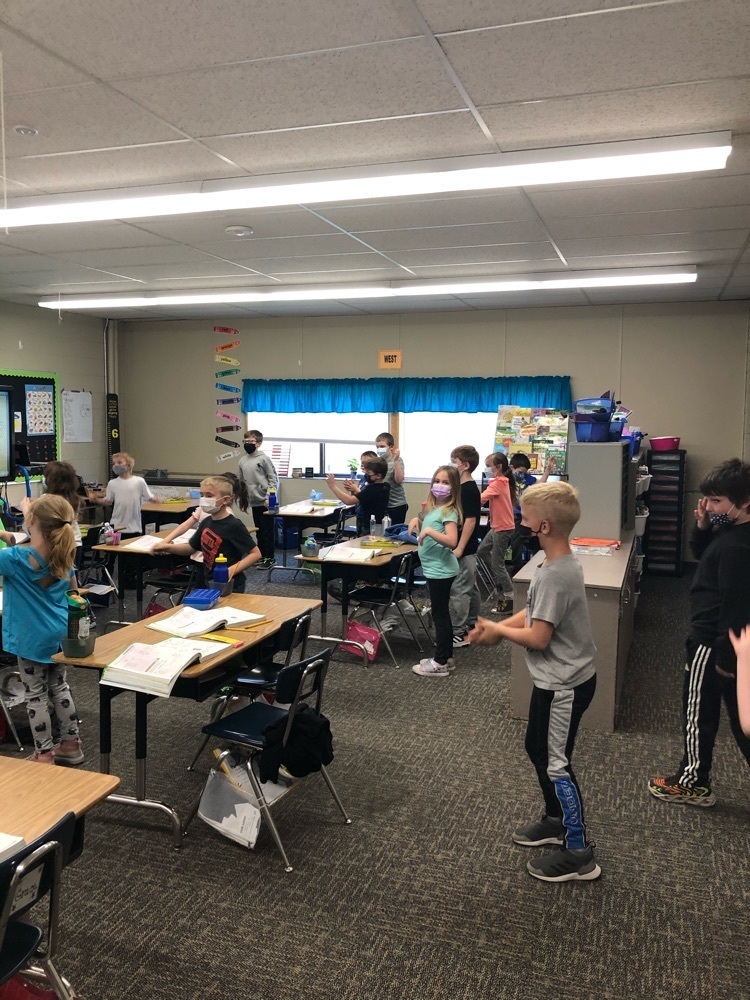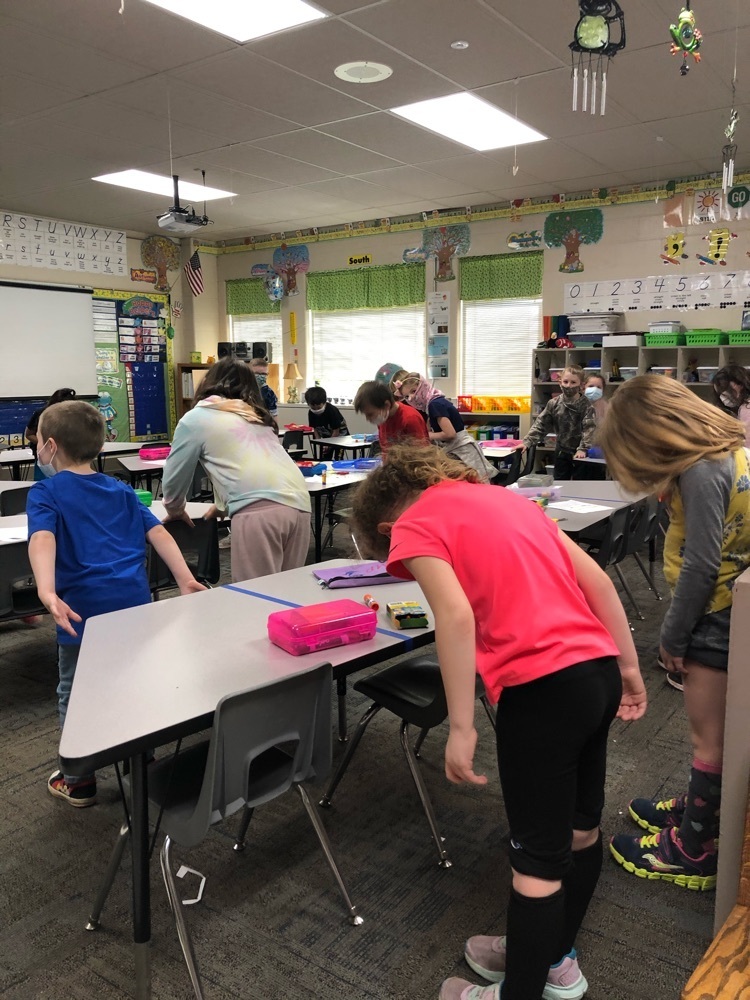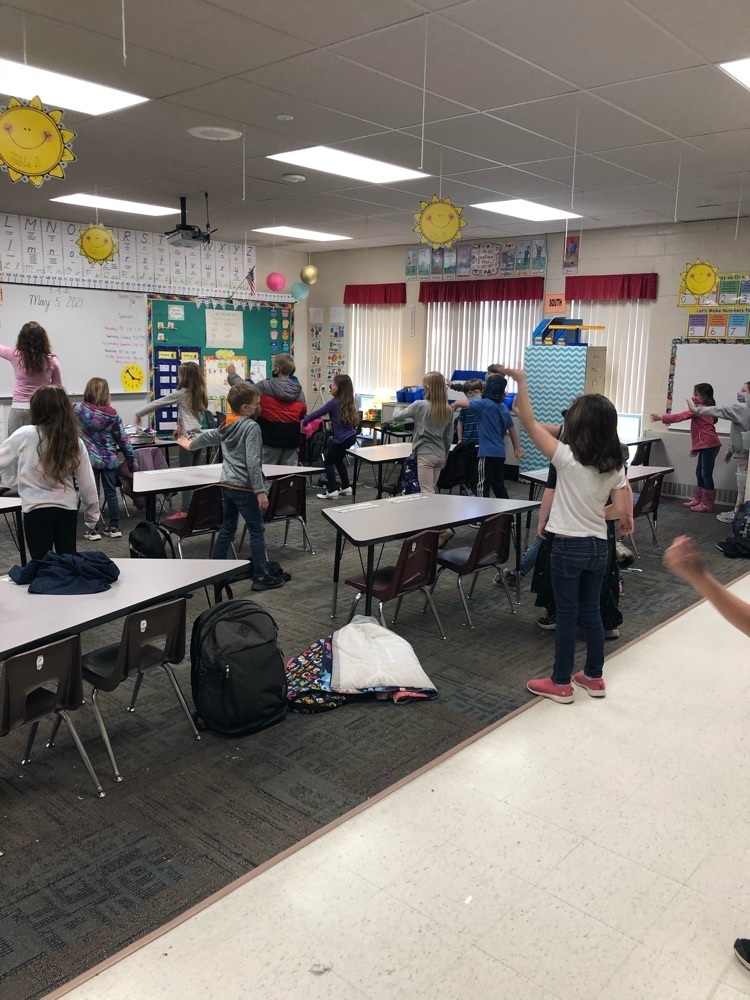 Please see the attached picture for the Joint Vaccine Statement from District Health Department #10 and Area Superintendents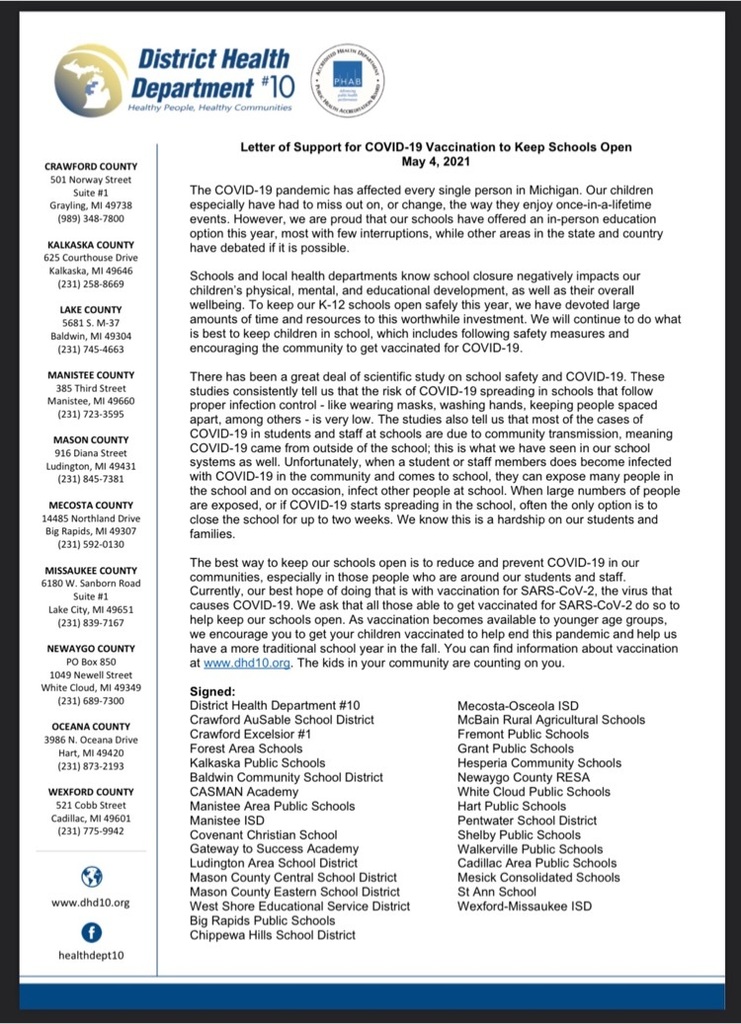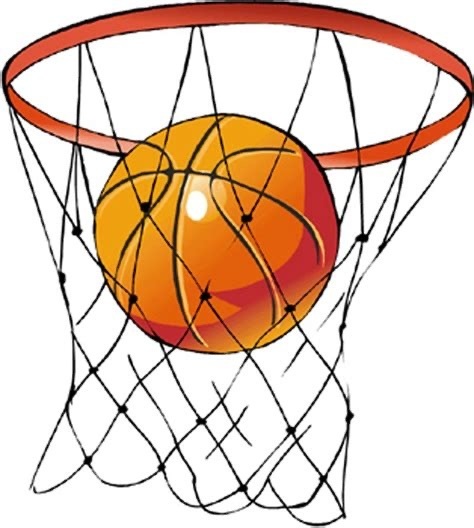 Spartan Families, I can not believe I am saying this but this is our LAST Newsletter of the 2020-2021 school year. Please see the attached photos and read the message from Mr. Etchison and make note of some important dates. May 21 - No School Teacher In-Service Day May 31 - No School Memorial Day June 11 - Last Day of School 1/2 Day-Scottville Elementary will release at 11:20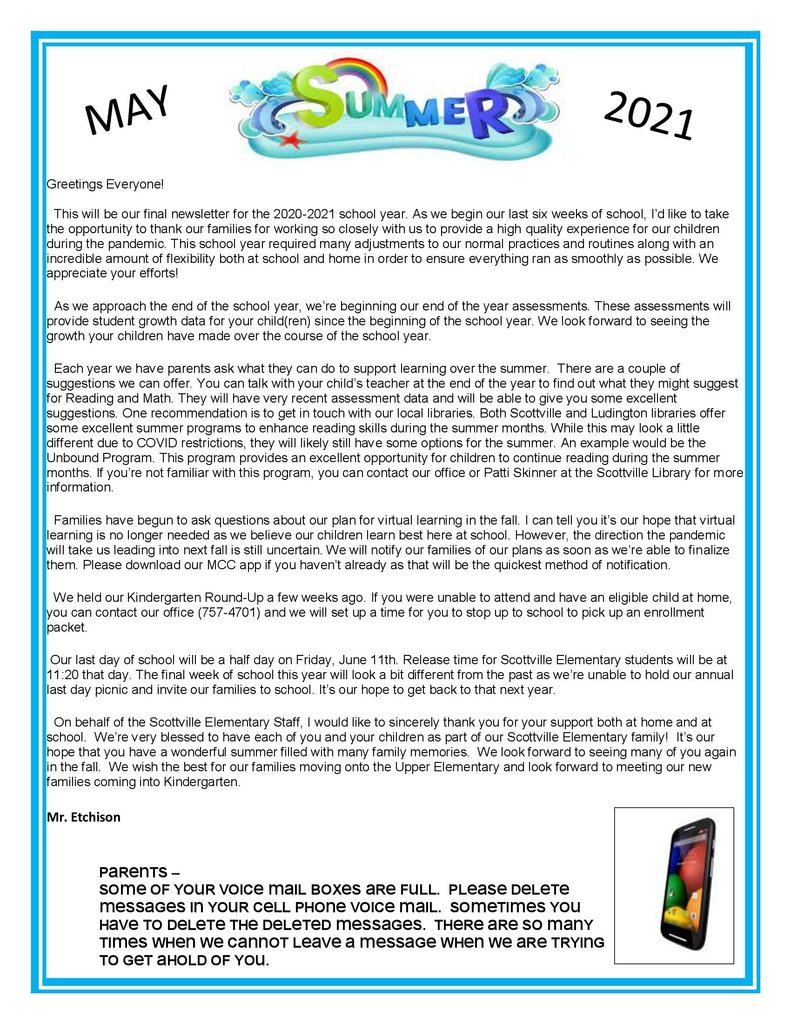 Check out the News Feed of this App or the District Website to learn more about the West Shore Educational Service District's Special Education Millage Renewal Election coming up on Tuesday, May 4th.

Check out the News Feed of this App or the District Website to learn more about the WSESD Special Education Millage Renewal Election coming up on Tuesday, May 4th.