Victory Early Childhood Center has openings in our Great Start Readiness Preschool Program. There is still time if your child will be 4 on or before September 1st, 2020. If your child turns 4 before December 1st, 2020 still give us a call as we might still be able to help you get into this high quality FREE program for those that qualify. Ms. Angie is waiting for your call at 843-2410. We have both onsite and offsite learning options. We also have openings for families who are over income as guidelines have been lifted for the 2020 / 2021 school year.

Today is National Custodial day and we would like to give a huge shout out to our very own Penny Englebrecht!!! Happy National Custodial Appreciation day to all of our hard working and diligent Custodial staff at Mason County Central Schools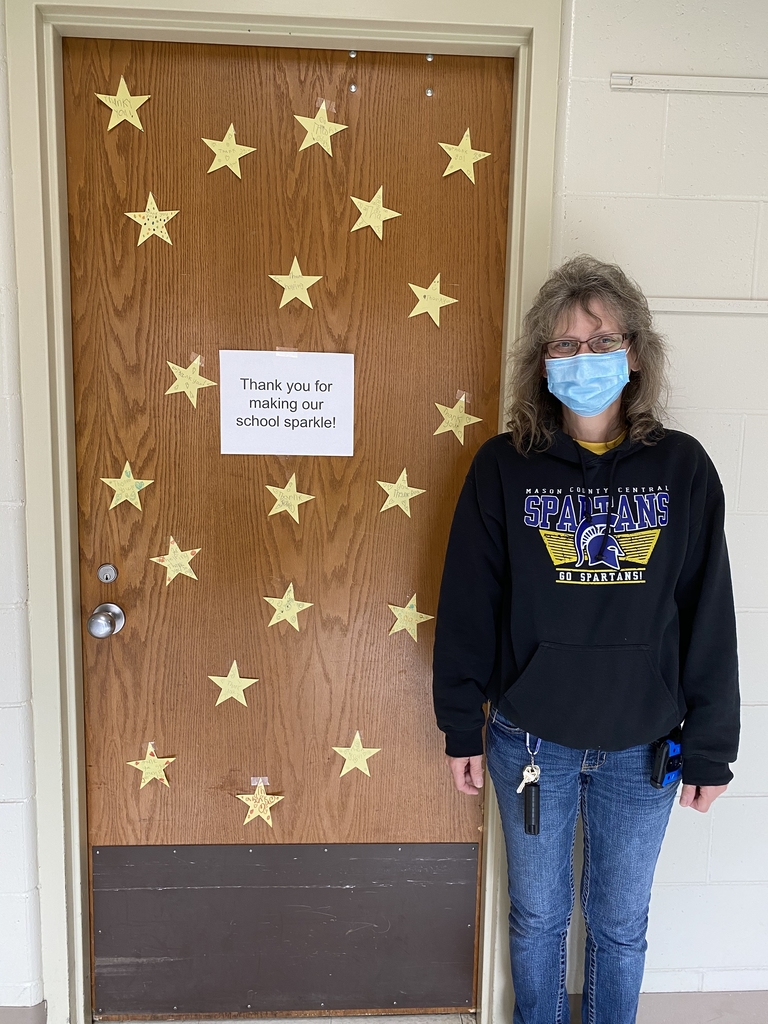 Scottville Elementary Classroom Halloween Celebrations This year our Halloween celebrations will look a little different at Scottville Elementary. We appreciate our families offering to send in snacks but unfortunately we cannot accept them at this time (not even prepackaged). We will provide each classroom with snacks, something to drink and a treat. They will watch a Halloween themed cartoon or movie with their classmates and we encourage students to wear Halloween themed "COVID-19" protective masks that day (Friday, October 30th) to school (see example below). The children will not be dressing up in costumes this year because we cannot parade through the building or downtown and cannot invite our families in. Please contact us if your child has a peanut or other food allergy 757-4701.

This past Friday, Executive Order 185 was declared by Governor Whitmer that expands the requirement to wear a mask in the classroom to ALL students kindergarten and up. In the order she explains that "wearing a covering over the nose and mouth remains the most effective tool to combat the spread of COVID-19, both in schools and the wider community." This order goes into effect on Monday, October 5th. Please know that our Kindergarten through 5th grade students have been outstanding in meeting the guidelines for the common areas of the school thus far. Our teachers and staff will also be creative in assuring that safe "mask breaks" will be provided throughout the school day. The building principals, Mr. Etchison (K-2) and Mr. Kimes (3-5) would also like to remind parents that while gaiters are an allowable face covering, be sure if purchasing/making them that they are the appropriate size for your child. If too big... they fall off frequently and can become a distraction for them. If you have any questions, do not hesitate to give us a call. Stay Healthy and Strong Spartans!!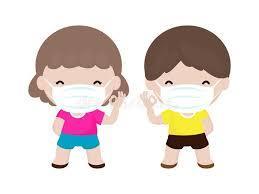 If you have interest in your child participating in West Shore Wolves Youth Hockey, there is sign up and contact information in the News Feed of this App and the MCC District Website.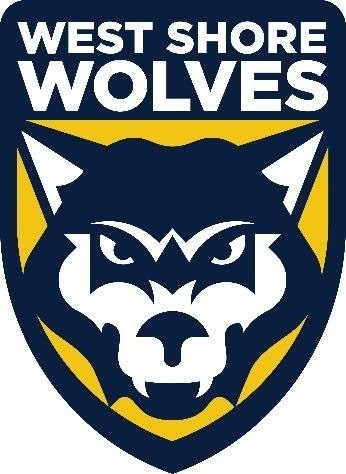 Head on over to the News section of the app to check out the September/October Newsletter From Mr. Etchison.

Good Afternoon Scotville Elementary Families Virtual and Face 2 Face. If you have NOT had a chance to fill out the back to school paper work that is located on our Scottville Elementary web page, please head on over there and get that done, our deadline to have this in is October 2nd. Keep an eye out for paper work to be coming home with your children in Friday folders or in the mail as we have mailed some paper work to families who are virtual learners as well. Also if we have NOT gotten a copy of your child's birth certificate, proof of residency, and/or immunization records please send a copy in your child's back pack or we can meet you at the front door and make a copy. Thank you!!

Good evening Spartan families, we're looking forward to starting our third week of school and want to thank everyone for being patient and understanding as we all adjust to the changes we've needed to make this fall. The children have been doing a great job making the adjustments and are all settling in quite well. Please make sure your child(ren) are bringing a clean mask to school each day. If you have masks you'd like to donate for children that need one please contact our office. We have extras but will accept donations as well. Thank you for your continued support.


Pick Up and Drop Off Clarification: Drop off is at 8:10 each morning, no recess before school. Start time 8:17, breakfast will be served in classrooms and those children will have until 8:30 to eat. Kindergarten Students - 1st Day of School: Drop off on the Magic Square (If NOT raining) Drop off at West Entrance (IF raining) Pick up at West Entrance Rest of the School Year: Drop off at Front Entrance Pick up at West Entrance 1st Grade Students: Drop off will always be at the Front Entrance Pick up will always be at the Front Entrance 2nd Grade Students: Drop off will always be at the Front Entrance Pick up will always be at the East Entrance If you have questions please give us a call 757-4701. The office will be staffed starting at 7:30 each morning.

Good evening everyone, I have a few important things to share with you. The first is an important announcement for our Kindergarten families. If it isn't raining Tuesday morning at 8:10, the Kindergarten teachers will meet you out back on the Magic Square for student drop off (first day only). If it is raining, you may drop your Kindergarten child off at the West entrance (1st and 2nd grade parents will drop off at the front entrance as originally planned). Please do not enter the west parking lot with your vehicle as there will be children and parents in the lot posing a safety hazard. You may park on Maple St. or Gay St. Let's keep our fingers crossed that the rain holds off until later in the morning. All Spartan Families: Please remember that drop off times have changed this year, students will not be able to come inside the building until 8:10 each day and we won't have a recess prior to school starting due to COVID. Beginning on Wednesday morning, all K-2 students can be dropped off at the front entrance (Tuesday - 1st and 2nd only). Remember Scottville Elementary will be releasing all K-2 students at 11:20 the first day of school. Please wear your masks at pick up and drop off and remember parents cannot enter the building at this time. We will have adults throughout the building helping the children get to their classrooms.

Good Morning Scottville Elementary Family, Please head on over to our website and check out our Teacher's Welcome Back Video's and a Special Kindergarten PowerPoint presentation. mccschools.org

Please visit our website tomorrow:
www.mccschools.org
for teacher introduction videos and an important Kindergarten Orientation slideshow presentation. Our office will be open tomorrow from 8:00 - 3:00. Spartan Connected families that didn't have time in their schedule to stop by today may stop by to pick up their materials. We can also accept enrollment paperwork if you need to enroll your child(ren) for the 2020-2021 school year.

Good afternoon, this is an important reminder to all our Spartan Connected online families: Tomorrow - Thursday, September 3rd from 8:00 - 3:00 we will have a district wide Spartan Connected "curbside pickup" at each of the school buildings. Scottville Elementary families should come to the front entrance, ring the "door bell" and wait for someone to come out to assist them. You will receive two short agreements that need to be filled out when you arrive. We recommend parents take them back to their car and bring them back to the front entrance when finished. Once we have these you will receive materials your child will need to get started. Families that do not have WiFi and need a downloaded device will have a pick up date next week. Those families should reach out to the teacher for more information. Our Go Math books are on the way and you will need to stop back by the school to pick their's up when they arrive...we will keep you posted. ***Please practice social distancing and wear your face mask if there are others waiting when you arrive.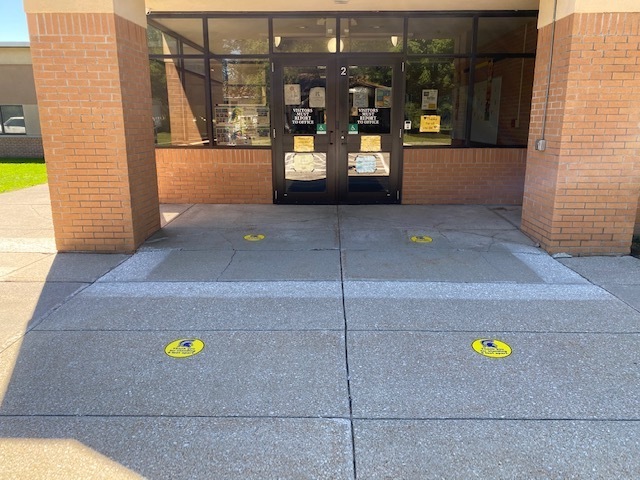 We missed one important date in our original "Mark Your Calendar" post. Please note the addition of the November 16th MCC Inservice.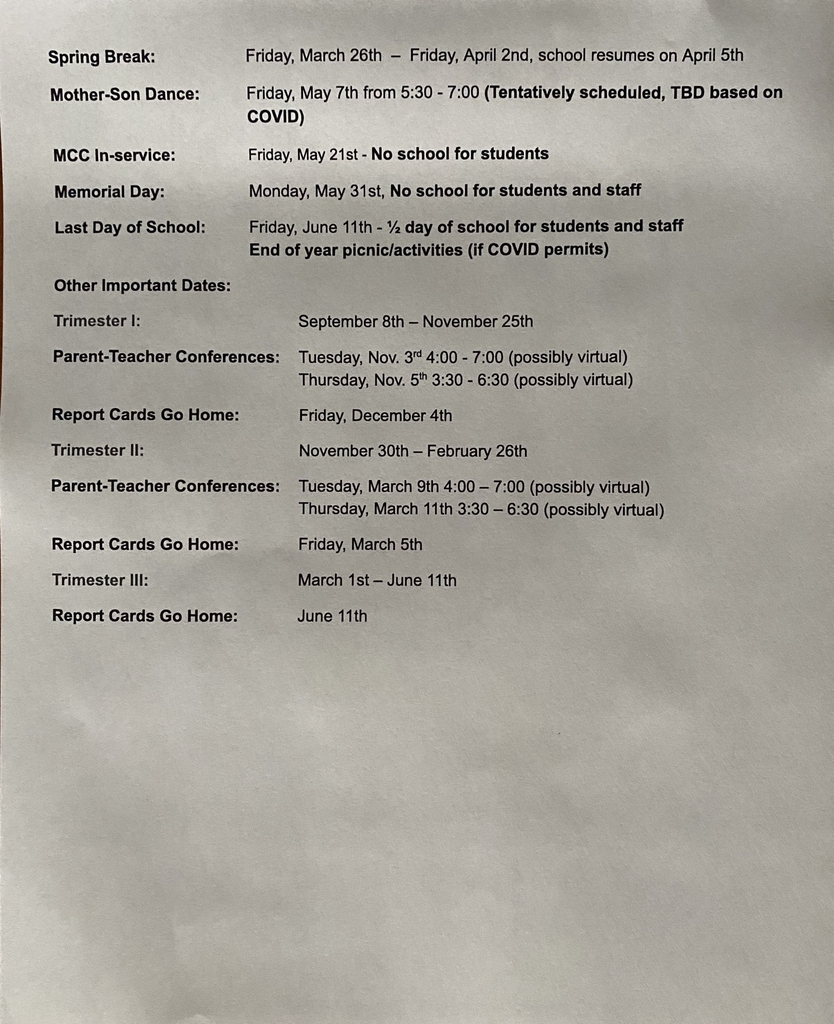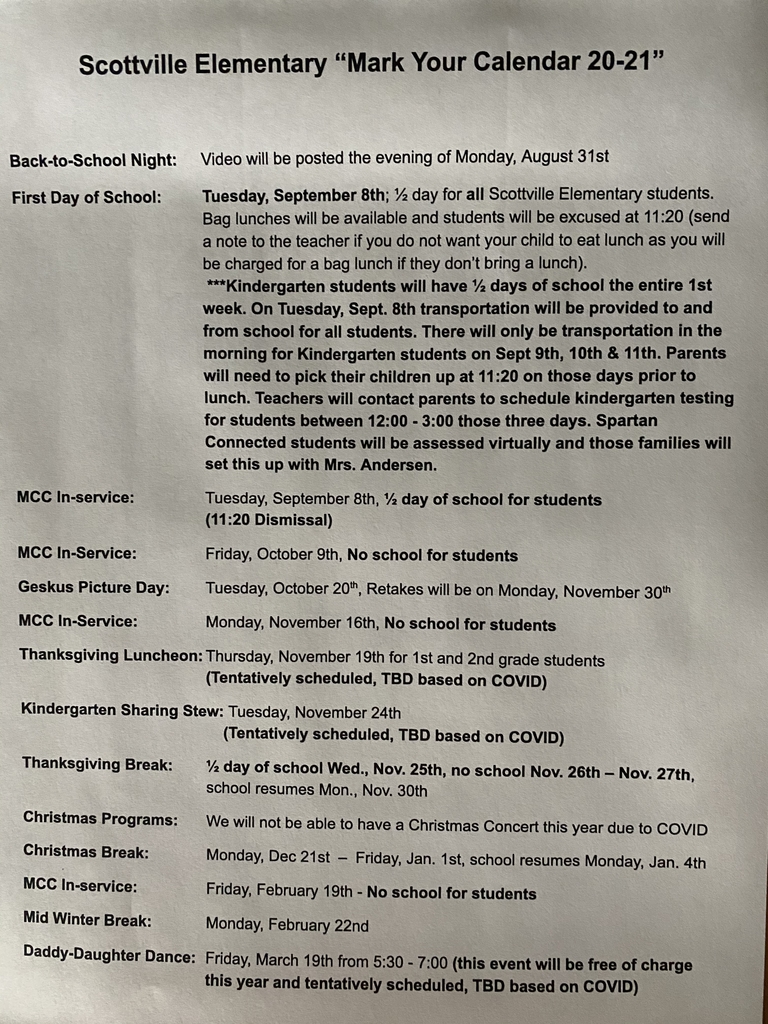 Good morning, as we worked to finalize our class lists this past week we noticed that some families that made their selection for face to face or Spartan Connected learning did not have their children officially enrolled at Mason County Central. If you have made your selection but not yet turned in your enrollment packet please do so immediately. Unfortunately we won't have contact information for those students so they would not receive our mailing with class information. If you have questions please contact me at 231-757-4701 ext 520 or reach out to me here and I will help you finalize the process. Thank you!

Good Afternoon Spartan Families, We have several important updates to share with you today. First, you can expect to receive a letter at the beginning of next week with your child's teacher assignment and class information. Grade level supply lists are posted on the MCC App, our website and the Scottville Elementary Facebook page. We will have a Spartan Connected "curbside pick-up" for parents to pick up everything students will need to get started this fall on Thursday, September 3rd from 8:00 - 3:00 at Scottville Elementary. Spartan Connected families should expect to receive a phone call from their child's teacher this week to gather some needed information. Back to School Night will be virtual this year and will be posted next Monday, August 31st after 3:00 on the MCC App, our website and the Scottville Elementary Facebook page.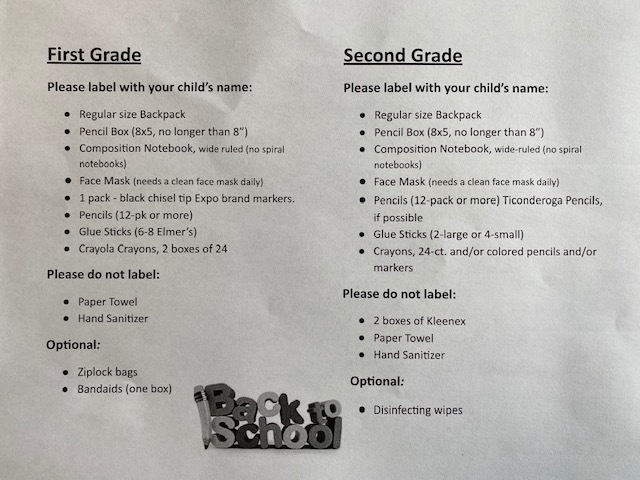 Good Afternoon, we will be posting important information for parents regarding our Back to School video (replacing back to school nights this year), class assignments, supply lists and Information for our Spartan Connected online learners tomorrow afternoon...stay tuned.

Spartan Connected - Scottville Elementary We understand many of our parents that have chosen our Spartan Connected option want a consistent daily schedule for their child. We're recommending families follow this schedule starting promptly at 8:30 each morning. However, we know a morning learning schedule doesn't work for everyone depending on work schedules. We've designed a flexible model that combines teacher taught lessons, real-time interaction between teacher and students along with opportunities for students to interact with each other, daily teacher accessibility and uploaded content so students can learn at their own pace. This model is designed for students that choose remote learning while we are in Phase 4. If we are placed back in Phase 3, all K-2 students will follow this model of learning. Accountability will be a fundamental part of our children's learning with this model and solid expectations will be set. There will exist a solid set of expectations for students and parents to follow so learning can take place through Google Classroom. Here is what you can expect each day from the K-2 Spartan Connected model: 8:30 - 9:00: Morning check-in with the teacher and classmates via Google Hangout. 1 - 2.5 hrs: Uploaded teacher taught lessons and/or instruction videos with time to complete assignments that will be turned in (this allows for students to work at their own pace but gives families an estimate of the time they should set aside each day). 20-30 min: One-on-one/small group (student specific) remote interventions are possible if needed (# of days per week determined by teacher and scheduled with parent scheduled with parent) ***The Google Hangout will be open throughout the morning each day so parents or students can jump back in to ask questions about the uploaded lessons taught by our teachers and any additional instructional videos they've included. Outside of the normal school time frame, parents will need to set up a communication method with the teacher in case they need support (i.e email). ***All lessons, instructional videos and assignments will be accessible anytime after they're initially posted to meet family schedules but there will be assignment deadlines just as there are in a traditional school setting. ***Mrs. Greiner, our Student Success Specialist, will be available daily. Families can connect her via phone or in a Google Hangout if support is needed. ***Specials would not be offered to K-2 Spartan Connected students in Phase 4. ***K-5 students that choose our Spartan Connected model but have connectivity issues will have access to the same content as those with wifi connectivity. They will receive a Chromebook with all content downloaded onto it, one week at a time. Each week they will need to return it to school so we can retrieve student work and reload content for the next week. ***Spartan Connected students may check out a chromebook if they need a device while learning remotely.

Good Evening! Ms. Angie and I have organized a couple opportunities for families to register their children for Preschool and Kindergarten in the upcoming weeks. If you have already turned in a packet you're all set for now, if you have one to turn in, stop by and we'll get it processed for you. We'll have packets available for those that need one and a place for you to fill everything out. We plan on finalizing Kindergarten class lists for the fall following these events. Please check out the attached flyers for more information. We look forward to seeing you soon!